Keep Calm & College On!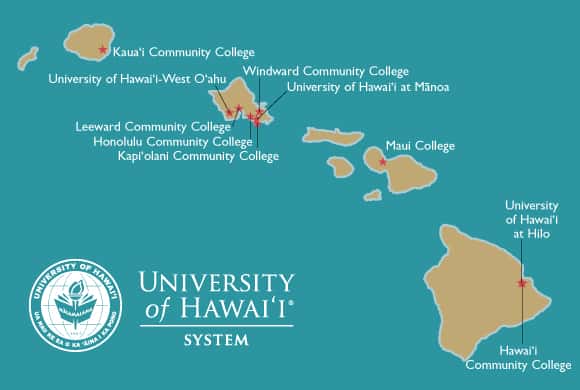 The University of Hawaii was first opened in 1908 as a land grant college of agriculture and mechanic arts with just 10 students. The school became a University later as it grew in size. Today the school enrolls over 1400 undergraduate students and has 10 campuses in all covering the different Hawaiian Islands. The school is well known for its programs in Hawaiian/Pacific Studies, Marine Science, East Asian Languages and literature, and Asian Studies.
Island Love:
Hawaii is known for its "ohana" which means family in Hawaiian. Because the islands are a tight nit community, it is not difficult to become familiar with the community. This familiarity has made jobs and internships more accessible for students of the university. It is an ideal environment for students to put themselves out there just a little bit, step out of their comfort zones, and network with varying levels of life experiences. It is not unheard of for a job or mentor-ship to happen as a result, or maybe even a contact to call when you need a ride or extra camping gear! Whatever the reason, making connections is valuable for career building and can enhance a college experience. Other great ways to meet new people is to get involved with clubs and events that happen on campus or go to https://www.meetup.com/ and join in on an enjoyable activity or new experience!
Dining Tips:
Breakfast- Going to Tantes for breakfast will blow your mind. It's a seat yourself kind of place with with large and hearty portions. It is the perfect price point for a starving college student budget, but you will not leave hungry. Our recommendation is the Bacon and cheese omelet. They are open through lunch for the late risers and also have a fantastic drink selection. If you have a massive appetite, try the Moco Challenge. If you can eat your entire dish in under 45 minutes, it's FREE! Think you have what it takes? http://www.tantesislandcuisine.com/
Lunch- Food trucks are a big deal on the islands, so here are some to make deciding simple. Some can be a little of a splurge, but you have to strike while the iron is hot since they move around so much. Some popular ones to look out for are 808 Plates, Geste Shrimp Truck, and Maui Fresh Streatery. https://www.facebook.com/808-Plates-MAUI-260768220739186/
Dinner- If you like beer, pizza, live music, and playing pool then this is the right place for you! Ale House Restaurant & Sports Bar is a popular spot for students and a great hangout spot for anyone looking for a local island feel. There are tvs in every direction, perfect for sports lovers. Take some friends and have a blast. http://kahuluialehouse.com/