The History and Meaning of the Porsche Logo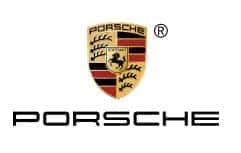 From the 911 Carrera, to the 718 Boxster, to the Cayenne, all Porsche vehicles wear the famed Porsche crest with pride. Aside from a few small alternations, the Porsche logo has remained the same for six decades. So, what's the story behind the Porsche crest? Its history is much richer than you'd think! Read on to learn more about one of the auto industry's most distinctive logos.
Porsche Logo Creation
In 1931, Porsche Automobil Holding SE was created by Ferdinand Porsche, a Czech engineer. The logo's creation, however, isn't as clear as the company's. Americans often claim that Ferdinand Porsche's son, Ferry, sketched the crest on a napkin during a meal with American Porsche distributor, Max Hoffman, at a New York restaurant. Meanwhile, many Germans disagree, believing the emblem was designed by engineer Franz Xaver Reimpiess.
Cultural History of the Porsche Crest
While the creator of the company logo is debatable, what's certain is that it was based on the Free People's State of Württemberg's coat of arms. Porsche's headquarters were, and still are, located in Stuttgart, which was Württemberg's capital. In 1952, not long after the development of West Germany, Württemberg -Baden and Württemberg-Hohenzollern merged into the Federal State of Baden-Württemberg. Now, the old coat of arms is Porsche's famed crest and a piece of Germanic history.
Porsche Logo Design & Meaning
Stuttgart is located in southwest Germany and was built atop a stud farm, or horse-breeding farm. The name "Stuttgart" comes from "stutt garten," or "stud garden." Since the 14th century, Stuttgart has used horses in its city seal, which explains the Porsche logo's black horse. Württemberg's state seal is commemorated by the antlers and black and red stripes. "Porsche" and "Stuttgart" were added to the logo to separate it from a regular coat of arms, which never includes the armiger's name or home.
See What Else is Behind the Porsche Crest!
If you have questions about Porsche's history, vehicles, or even how to properly pronounce "Porsche", contact the brand experts at Porsche Hawaii, located near Ewa Beach and Waipahu. We'd be happy to arrange a test drive, and let you experience the power and luxury of today's Porsche vehicles firsthand!